For me at least, 2019 has so far been very active in branding and digital design. Here is a collection of the coolest things to light up my pixels so far this year.
Building a Brand
This is a series of YouTube videos which form a documentary following the development of a visual brand from brief to full rollout. The studio methodology and design are sound, though a bit different to what we do at Univers, and the videos are well made. If you've ever worked in branding you will recognise a lot here. Or, if you're curious about how brands get done, this is a great place to start.
The full playlist starts here, or watch the one on stylescapes, my favourite, above.
Bakken & Bæck
Unpronounceable name: check. Brutalist styling: check. Blue Russian cat: checkmate.
I am literally drooling over this website. From the wide, simple typography, to the brilliant hard-shadow photos, it's a perfect expression of current on-trend visual design language. This website may therefore be an answer when, in years to come, your grandkids ask you what 2019 looked like.
Fintech Cool
Leading on from Bakken & Bæck's case study on Coinbase, we've seen a couple of good looking fintech brands launch in Australia recently. The two I thought were worth a second look, shown above, are up and 86 400. They're undesirably, unfortunately similar, but both are well executed.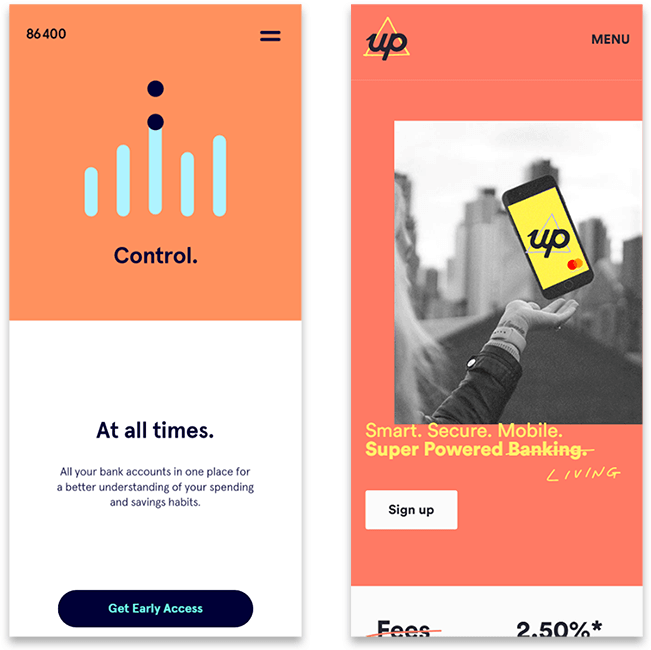 Seen on Social
So I'm totally over social media. Don't get me started. But, there's still some cool things to be seen on the trainwreck. Check these out but don't get trapped in.
Atelier Barda shares images of their trend-leading design style.

Linefeed is a curation of visual culture, the stories are usually pretty cool.

Grundlagt, a Tumblr, is a great collection of on-trend visual design.
Keith Haring
The Tate Liverpool is hosting an exhibition on 80s New York street artist Keith Haring. Discovering this online made me lament how I wasn't in New York in the 80s and won't be in Liverpool now. It's not strictly branding, but Haring's visual style can be applied to almost any object to recall that New York street feel.